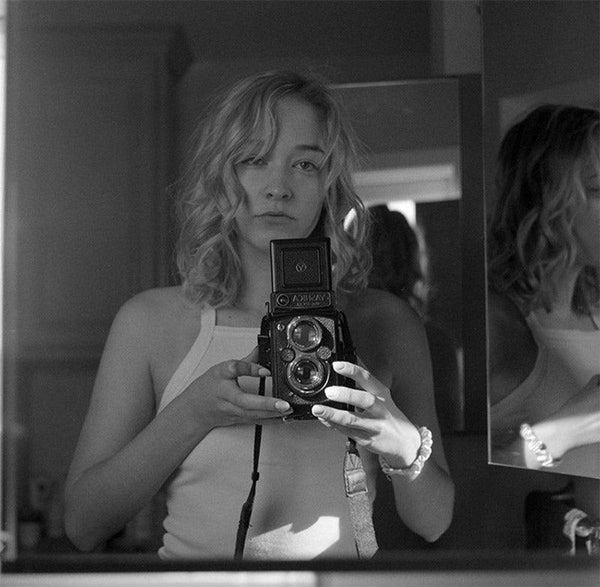 Film For Her Friday: Dana
MEET THE PHOTOGRAPHER:
Dana is a film photographer based in rural Wisconsin. She has been shooting film for just over two years and in that time has developed an eye for photographing "just about anything and everything". From self portraits to sun-drenched cityscapes and all the snapshots in-between.
How did you get started shooting film?
"I started shooting film about 2 years ago now (February 2020). A friend gave me his Pentax K1000 and a couple of rolls of film. He told me which stocks to use in daylight, and how the light meter worked, and I went for it. My first roll came back a little underexposed, but I was amazed. And it's been an obsession ever since!"
What is your favorite camera?
"My favorite camera will probably always be my first one, the Pentax K1000. I learned how to shoot film using that camera, and I feel so comfortable with it. The built-in light meter is pretty accurate, and I would recommend that camera to anyone who is starting out as it feels very beginner friendly."
What is your favorite film stock?
"My favorite film stock is probably Kodak Gold 200. I love the warm tones & I am so attracted to beautiful light. It's also pretty versatile - I've pushed it pretty far in dim lighting too!"
What has your experience been in the film community?
"The film community has changed my life. I know that sounds cliché, but it's true. I have made numerous friends online, around the world, who I would love to meet one day. And I have met local photographers who I hang out with regularly in real life!!! (Which is crazy to me because I'm very introverted and socially anxious and never thought that would happen). Many of the cameras I have now, have been sold to me by a friend, or I inherited from my grandma. Sometimes film cameras are very finicky or there are certain things you should know before making an investment in a more expensive one – which is why I think it's important to buy from a seller you trust, that is transparent with what a camera is capable of, and is able to give you the best advice. For example- I would much rather buy from a friend who has used the camera, knows it works, knows what it's great at – vs buying on eBay from a seller I don't know."
"I have made so many connections through this hobby and sharing my photography online – it blows my mind. I think the female photography community is incredibly encouraging and supportive and it makes me feel proud to be a part of it.
What's the best piece of advice you have been given as a photographer?
"'Just for fun, if you can imagine that – art for fun.' -Sally Mann's response to critics trying to make meaning out of her work (specifically where she took large format photos of dog bones). I have been given so much good advice, but this tiny tidbit of an interview stuck with me so much, because Sally Mann is an extremely successful, well-known photographer – and here she is saying – maybe don't take it so seriously. Art can, and often should be, just for fun."
What advice would you give to a beginner film photographer?
"We are all beginners, at some point. Be patient when things don't turn out like you pictured they would – shooting film is full of surprises, and often the mistakes and flaws are what makes things unique and interesting."