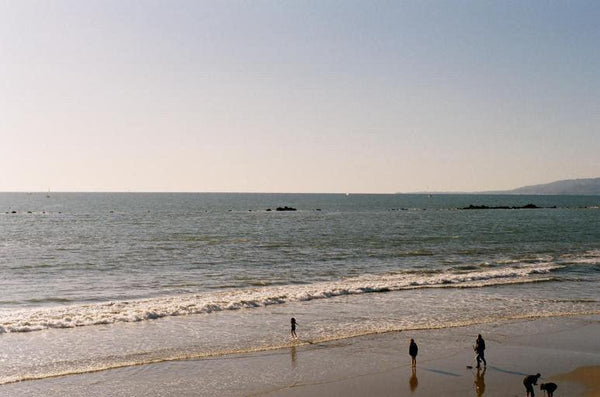 #FILMFORYALL: LIZELLE HILARIO
We at Cute Camera Co. believe film should be for everyone, and as such, we've had the pleasure of connecting with as diverse an array of people as one could hope for. To our excitement (be still our film-loving hearts!), the pool of fellow film photographers seems to be growing by the day.
As we grow together, we've also been growing more curious, and so we want to hear more of your stories. We want to find out what drives you, the film photographer, and hopefully help to inform, inspire, connect, and share the fun!
Let's meet Lizelle Hilario (@lhilarious on IG), based in Las Vegas. All photographs were taken by Lizelle using a Pentax K1000. 
1. How did you get started shooting film? Why film instead of digital?
Ever since I was in my teens, I've always loved taking photos with my phone and loved the aesthetic of analog filters. In my circle of friends, I'm the one who takes photos of the group. I told myself that one day, when I start earning money, I'll buy myself a nice camera, which I did. My first ever camera was a Fujifilm X-T30, and I loved it because Fujifilm gives off this certain old school, film aesthetic. And then when film cameras started getting popular again, I bought a point-and shoot, but I didn't really have much fun with it. I kept seeing manual SLR cameras online, and at first I was hesitant in buying one, trust me, it took months before I finally decided to hit that "add to cart" button on the website 😂… But I'm glad I finally did because I've had SO much fun with it, and I didn't feel this way when I first used my X-T30 or my point-and -shoot!! I have control and there's just so much more to learn with a manual SLR camera. It's just a different feeling from using a digital one.
2. What camera and film stock did you use to make these photographs? Do you have a favorite camera and/or film?
For my Pentax K1000, the first film that I used was Fujifilm 200. Out of all my cameras, my current favorite is this Pentax K1000. I feel like I'm gonna be using it A LOT. I just haven't booked any trips yet, but I will be taking this camera with me on my future travels. As for the film, I think I'm biased, Fujifilm, but I'm still exploring. That's also a good thing about a manual film camera. I haven't felt the need to edit any photos, they just surprise you.
3. What has your experience been in the film community?
I don't really feel that involved in the film community just yet. I don't think I have gotten to that level yet. I feel like my skill is still at a beginner level, that I still have to keep in mind the controls for the aperture and shutter speed and all that, but I'm looking forward to being more involved in this community in the future.
4. How did you find out about Cute Camera Co.?
I googled "manual film cameras," and Cute Camera Co. showed up! Before buying I checked out some cameras on other websites too, but I feel like Cute Camera Co. is the most reliable one. After buying the camera, I found that what they say in the positive reviews are all true. You know, in a way I do feel like I belong in this community now. I don't really know many people close to me who are also into film cameras, but there's this online community for me.
5. What are your future plans with film photography? Anything you're especially excited about?
I'm so excited to be trying out different types of film. I'm a little scared to use black and white film, but I'll give it a try one day. Also I'm looking forward to maybe buying a different lens for my Pentax K1000? I'm excited to keep exploring, learning, and getting to know my camera more. 😊
Interested in being featured? Tag us on Instagram in your Cute Camera Co. photos or use #filmforyall.