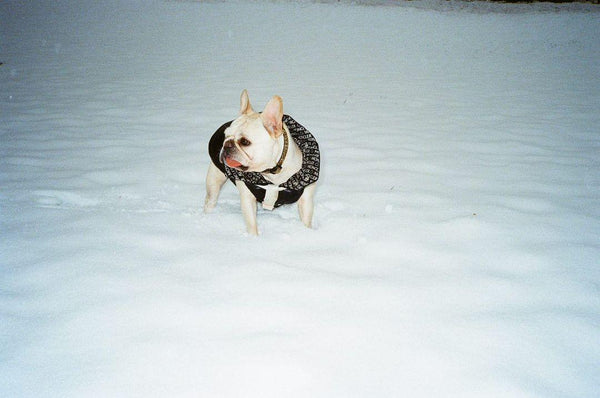 #FILMFORYALL: MICHELLE SHARAF
We at Cute Camera Co. believe film should be for everyone, and as such, we've had the pleasure of connecting with as diverse an array of people as one could hope for. To our excitement (be still our film-loving hearts!), the pool of fellow film photographers seems to be growing by the day.
As we grow together, we've also been growing more curious, and so we want to hear more of your stories. We want to find out what drives you, the film photographer, and hopefully help to inform, inspire, connect, and share the fun!
Next up we'd like to introduce Michelle Sharaf (@linkapics on IG), based in New York City. All photos were taken by Michelle using their Canon AF35 point-and-shoot from Cute Camera Co.
1. How did you get started shooting film? Is film your preferred method of making photographs?
I've always been the person walking around with a camera (or more commonly, multiple cameras). I just find a lot of joy in capturing memories and moments, especially candid ones. When I saw that film was making a comeback, I bought an entry-level camera and had such a fun time with it, I decided to do some more research and explore some more. Right now I'd definitely say film is bringing me the most joy, but you'll still always catch me with 2-3 cameras on me at any given moment.
2. What camera and film stock did you use to make these photographs? Do you have a favorite camera and/or film?
I use the Canon AF35M and am still having fun experimenting with different films. Right now I'd have to say my favorite pictures have come from my rolls of Kodak UltraMax 400. I took some outdoor snow pictures in NYC, indoor wedding pictures without flash, and outdoor bright pictures in Austin, and there really was not a badly lit photo in the bunch (which is a big feat in an automatic camera like I have). My favorite thing to do is carry different types of film rolls on me at all times, and play film-roll roulette. I am working on being more on top of knowing which photos came from which roll of film, and am sure I will eventually have a favorite. My favorite camera mostly depends on where I am going and how much I can carry with me, but my Canon AF35M is the one I try and have on me at all times!
3. What has your experience been in the film community? Both in person and online?
I find a lot of shock and questioning when I take out a film camera, which is something I've noticed my whole life. People get so confused when I whip out a film camera, DSLR, Papershoot, or mirrorless camera, when "iPhones take perfectly good photos… " But then of course they are really excited when they see these photos. That is something that has been extra enjoyable with film lately, because I can come back a couple of days later with something that is beautiful and evokes nostalgia. 
4. How did you find out about Cute Camera Co.?
I found Cute Camera Co. through Google and couldn't be happier. I love my camera and have been delighted being able to interact with the company via Instagram, and also have had incredible customer support when I've had questions about both the camera itself and film photography in general!
5. What is your favorite thing about shooting film? What are you most excited about in terms of shooting film?
My favorite thing about shooting film is that with each shot, film adds something of its own to the picture every time. It really is something that cannot be forced or mimicked. You can choose your subject, your lighting, your film, and on manual cameras, the aperture, focus, etc., but you really don't know what the final product will look like until you get the development back, and I find that really fun. One time I was so excited to get pictures after shooting a snowy day in NYC, I opened my camera without rewinding the film roll. I was so devastated, I went back out for a second round of film photos in the snow, but the photos with the light leaks from the first roll were some of my favorites.
6. Do you have any advice for fellow film shooters?
My biggest piece of advice for film shooters is don't be hesitant or shy. I brought my camera to a wedding and was a little embarrassed to be taking it out and using it. In the end I only ended up taking 4 pictures, and they were so amazing, I really wish I took more and wasn't so hesitant.
Interested in being featured? Tag us on Instagram in your Cute Camera Co. photos or use #filmforyall.