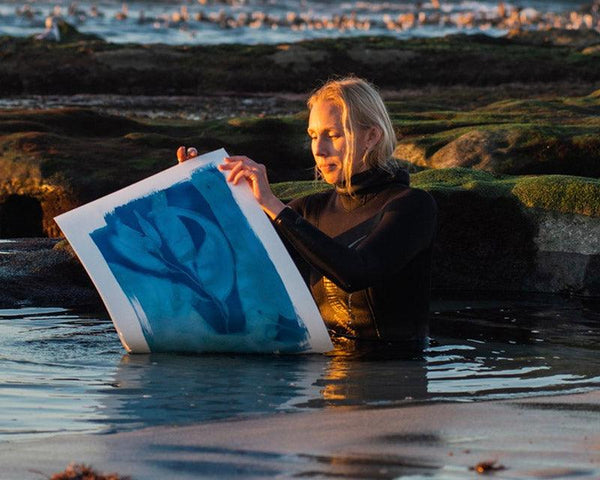 Film For Her Friday: Oriana Poindexter
MEET THE PHOTOGRAPHER:
Oriana Poindexter is a photographer and marine scientist focused on the intersection of art, science, and food from the sea. Oriana earned her degrees at Princeton University and the Scripps Institution of Oceanography at UC San Diego. She went on to work for nearly a decade with academic institutions, government agencies, and environmental organizations as an expert in the sustainable seafood and fisheries management arenas. Her photographs and cyanotypes have been featured by the Getty Museum and The Wall Street Journal, and she has created interpretive visual exhibits for the Aquarium of the Pacific and the Birch Aquarium. Oriana is based in San Diego, CA, where she is working on her first book, The Iridescent Ones, to visualize the natural and cultural history of abalone species on the Pacific West Coast.
How did you get started shooting film?
"I took a black & white photography class in high school and was hooked pretty quickly after that. I was lucky to have just made it through childhood before smartphones, so film was really my entry into photography, period. I loved that photography gave me an excuse to go explore my surroundings and find little patches of beauty in unexpected places."
 What is your favorite camera?
"I have a love-hate relationship with my Nikonos iii camera. It was such a revelation when I first started using it as it allowed me to take the whole film experience into the ocean with me, but can be quite finicky and it has led me to develop a serious relationship with my local camera repair shop. Luckily, as it has no electronics, all of the adventures it has taken in salt water haven't managed to kill it yet."
What is your favorite film stock?
"I love Ilford HP5 400. It became my best friend when I was learning to use the Nikonos cameras underwater. It's not too grainy, gives me nice contrast even in low light underwater situations, and I just find it to be very reliable."
What has your experience been in the film community?
"I've had great experiences with mentors or other types of film photography enablers, but I know that people picking up film cameras (or any kind of camera) outside of a classroom or institutional setting, that it can be quite a learning curve. I am always approaching the counter in a photography shop with questions, and people are usually quite knowledgeable and happy to share and answer my questions to the best of their ability. Definitely support your local shops if you are lucky enough to still have some in your area!"
"Don't get too attached to the 'right' way of doing things. The best things usually happen through accidents, especially in the arts, so I need to check my sometimes rigid and idealistic nature to let things evolve for myself, photographically."
What's the best piece of advice you have been given as a photographer?
"Look, and you will see. Also, get comfortable wasting some film (and paper) as you learn."
What advice would you give to a beginner film photographer?
"Follow your curiosity, bring your camera."